Codes are simple sentences that show secretive Cahill activity hidden in the books. The following are the codes in book order.
Series 1
Maze of Bones: Anne Cahill did not drown. Cover message: Ireland
One False Note: Look to India. Cover message: Gideon
The Sword Thief: The competition is about Hope.
Beyond the Grave: Alistair was there the night they died.
The Black Circle: Remember Madeleine; Olivia had another.
In Too Deep: Find the other Ekaterina scientist who came in too close.
The Viper's Nest: Grace=Madrigal leader, There is a Madrigal watcher.
The Emperor's Code: Madrigals are behind everything. They lay out the path the others will walk. The end is coming.
Storm Warning: He didn't tell them everything. (Coordinates for Jamaica) www.the39clues.com/thetruth
Into the Gauntlet: The Cahills aren't the only ones looking for the clues, the Vespers are coming.
Vespers Rising: Time is running out for the ring keeper; Find Medusa.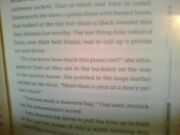 Series 2
The Medusa Plot: Guardian; Damien is alive; The mother was murdered.
A King's Ransom: I will move the earth; Sandreckoner
Dead of Night : Mole; Timbuktu; Manuscript Voynich
Shatterproof : Magellan, Isabel Kabra (picture), knotmole
Trust No One : Damien Vesper; The father is dead
Day Of Doom : Natalie, One other has the serum
These codes are only from the standard series story books. There are more from extra books.