Bryx is a game in Arena 39 on The 39 Clues Website. However it is currently getting fixed.
Goal
Get to the bottom of each pyramid by removing all the matching pairs of tiles. Each round is more challenging than the last!
Instructions
Bryx is a simple matching game. You click on one of the bricks to expose it, then try to find the match. Once you clear all bricks, you move to the next level. Be careful because if the hour glass runs out you lose!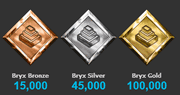 Ad blocker interference detected!
Wikia is a free-to-use site that makes money from advertising. We have a modified experience for viewers using ad blockers

Wikia is not accessible if you've made further modifications. Remove the custom ad blocker rule(s) and the page will load as expected.