Gordon Korman's
Author
Agent Card
. This version of his card was first seen when the message boards came up. This card consists of Korman's most famous picture, with the partly remaining headline of 'Author disappears.' It also has his location and job. Words beneath the caption are barely recognizable, but a part of the first phrase appears as 'he was ------d missing just yes-------,' presumably 'he was found missing just yesterday.' The pins cover up some of the letters. The background is most likely that of leather, maybe a bag or a purse. The torn paper was made to look like a part of a newspaper, and the location and job was likely made to look as if a detective had been working on the 'missing agent' case.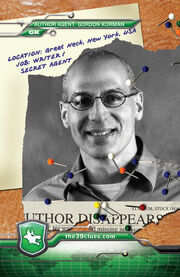 This is
Ad blocker interference detected!
Wikia is a free-to-use site that makes money from advertising. We have a modified experience for viewers using ad blockers

Wikia is not accessible if you've made further modifications. Remove the custom ad blocker rule(s) and the page will load as expected.