Description
"Gustave Eiffel was one of the most important architects and engineers of the nineteenth century. While he might have shared some skills with his scientific Ekat cousins, this crafty businessman was pure Lucian. Eiffel designed structures all over the world, from Chile to the Philippines. Two of his most famous designs, The Eiffel Tower and the Statue of Liberty, are among the best-known images on earth. Some people believe that the Lucian leadership was paying Eiffel to build branch strongholds on various continents...or at least secret hiding places. Collect all cards in this combination to unlock a Clue!"
Clue
This card, combined with Card 117 and Card 130, forms the Clue Blood.
Back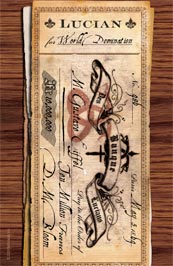 Ad blocker interference detected!
Wikia is a free-to-use site that makes money from advertising. We have a modified experience for viewers using ad blockers

Wikia is not accessible if you've made further modifications. Remove the custom ad blocker rule(s) and the page will load as expected.