Description
"No wonder Fort Knox is one of the best-protected buildings in the world--it contains the gold reserves of the United States! But is gold really the most valuable object stored within its vaults? Are all the Cahill agents spotted nearby aspiring gold thieves? Or are they after something else? Collect all cards in this combination to unlock a Clue!"
Puzzle
Question: Which numbered piece goes in slot C?
Answer: 2
Level: 4
Clue
This card, combined with Card 77, Card 113, and Card 120, forms the Clue Clover.
Back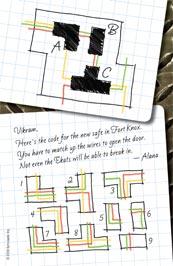 Ad blocker interference detected!
Wikia is a free-to-use site that makes money from advertising. We have a modified experience for viewers using ad blockers

Wikia is not accessible if you've made further modifications. Remove the custom ad blocker rule(s) and the page will load as expected.