Description
"Sure, body art is a form of self-expression, but the tattoos on these
Tomas
agents are just plain weird. It's not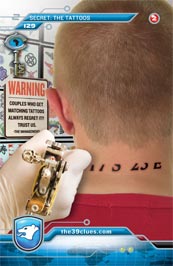 like the
Tomas
to cover their bodies with strange symbols--they like to leave that to their artsy cousins, the
Janus
. So could these markings be something more than decoration? Perhaps the
Tomas
are protecting information so secret that it's not safe to write it down or store it electronically--it has to be saved on a human being! And what happens when these two agents stand side by side...?"
Back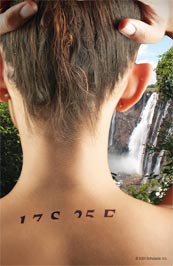 Clue
Combined with cards 79, 83, 102 and 126, it forms the Clue Bone.
Puzzle
Answer: 17 South 25 East
Level: 2
Info
Branch: Tomas
Type: Secret
Rarity: Uncommon
Preceded by: Card 128: Alcatraz Lighthouse
Followed by; Card 130: Urban Climbing
Ad blocker interference detected!
Wikia is a free-to-use site that makes money from advertising. We have a modified experience for viewers using ad blockers

Wikia is not accessible if you've made further modifications. Remove the custom ad blocker rule(s) and the page will load as expected.