Description
"Her husband, John Adams, may have been the second president of the United States, but it was Abigail Adams who belonged to the most powerful family in the world. Abigail was an early advocate of women's rights and the abolition of slavery. But her deep commitment to social issues didn't keep her from Clue hunting. She and friend Thomas Jefferson often shared information, but when Jefferson made a huge discovery in Paris, he kept it a secret. Did Jefferson betray Abigail? Or was he worried that she wasn't exactly what she seemed? Collect all cards in this combination to unlock a Clue!"
Top Secret
The full word of the "M" is revealed: Madrigal.
Clue
This card, combined with Card 6 and Card 44, forms the Clue Honey.
Back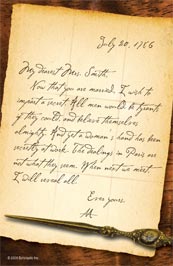 Ad blocker interference detected!
Wikia is a free-to-use site that makes money from advertising. We have a modified experience for viewers using ad blockers

Wikia is not accessible if you've made further modifications. Remove the custom ad blocker rule(s) and the page will load as expected.