Description
"Grace Cahill was an excellent cartographer, an amazing pilot, and terrific at Scrabble, but she had a teeny, tiny bit of trouble keeping her temper. When the future of the world is at stake, there's not always time to wait for people to stamp your passport or clear the runway. Needless to say, Grace has caused some trouble around the world and has been banned from quite a few countries. Some were misunderstandings and some were, well, pretty justified. But Grace wouldn't let a little thing like a canceled Visa interfere with her Clue hunt. There are lots of ways to sneak into a country unnoticed, if you only use your imagination."
Top Secret
A Lucian Audio Transcript of a conversation between Grace Cahill and the Luxembourg customs officer.
Back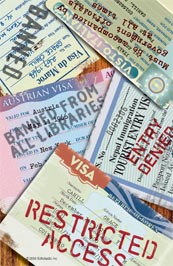 Ad blocker interference detected!
Wikia is a free-to-use site that makes money from advertising. We have a modified experience for viewers using ad blockers

Wikia is not accessible if you've made further modifications. Remove the custom ad blocker rule(s) and the page will load as expected.