Description
"There's no arguing that X-ray goggles are useful--you can scope out the contents of the fridge without leaving the couch. (No more walking all the way to the kitchen only to discover that there are no more chicken fingers.) But who needs X-ray goggles in the desert?! Or, more importantly, what are those scary-looking guys protecting in the middle of nowhere? Collect all cards in this combination to unlock a Clue!"
Clue
This card, combined with Card 88, Card 116, and Card 134, forms the Clue Calcium.
Back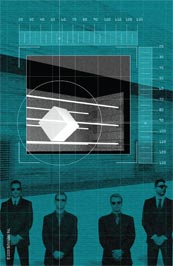 Ad blocker interference detected!
Wikia is a free-to-use site that makes money from advertising. We have a modified experience for viewers using ad blockers

Wikia is not accessible if you've made further modifications. Remove the custom ad blocker rule(s) and the page will load as expected.