Description
William McIntyre
was
Grace
Cahill's most trusted advisor for years. With a family as rotten as hers, it's understandable why she would turn to someone outside of the circle for loyalty and guidance. (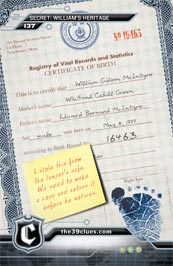 It's difficult to ask cousins for favors when they keep trying to murder you). But was William keeping a major secret from Grace about his heritage? Or if Grace knew, why was she purposefully misleading everyone else? What was William really doing on all those "business" trips he took on
Grace's
behalf?
Back
Top Secret
Four pictures of William McIntyre with a bar in the middle reading,"CAHILL STATUS CONFIRMED".
Precceeded by Card 136: X-Ray Goggles
Followed by Card 138: The Polished Spy
Ad blocker interference detected!
Wikia is a free-to-use site that makes money from advertising. We have a modified experience for viewers using ad blockers

Wikia is not accessible if you've made further modifications. Remove the custom ad blocker rule(s) and the page will load as expected.