Description
"Eisenhower Holt is tired of being the laughingstock of the Tomas branch. Ever since he was expelled from West Point, he's been considered a failure. The Tomas are NOT supposed to fail. Intimidate? Yes. Crush your rivals into pulp? Absolutely. But fail? That word isn't in the Tomas vocabulary. Eisenhower knows that Grace's competition is his last chance to prove that the Holts are winners. He'll do whatever it takes to find the Clues first, even if that means destroying a certain brother-sister team...especially if their father was responsible for his expulsion in the first place. He's a jerk because he failed."
Clue
This card, combined with Card 146, Card 147, Card 148, Card 149, and Card 150, forms the Clue Aloe.
Back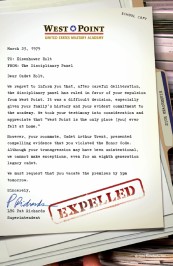 Ad blocker interference detected!
Wikia is a free-to-use site that makes money from advertising. We have a modified experience for viewers using ad blockers

Wikia is not accessible if you've made further modifications. Remove the custom ad blocker rule(s) and the page will load as expected.