Description
"The Lucian Branch was shocked when Irina Spasky died in Indonesia on the hunt for the 39 Clues. Rumors are flying, but branch leader Isabel Kabra is desperate to hide the truth. She can't let her followers discover just how ruthless she really is. Irina used to have a similar philosophy, until her son died while she was on a Clue-hunting trip. She continued her work, but the loss haunted her. When Isabel tried to kill Amy and Dan by starting a fire, the memory of Nikolai pushed Irina to make the most un-Lucian move of all: She sacrificed her life to save the children."
Clue
This card, combined with Card 145, Card 146, Card 147, Card 148, and Card 149, forms the Clue Aloe.
Back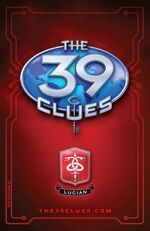 Ad blocker interference detected!
Wikia is a free-to-use site that makes money from advertising. We have a modified experience for viewers using ad blockers

Wikia is not accessible if you've made further modifications. Remove the custom ad blocker rule(s) and the page will load as expected.