"In 1864, Archduke
Maximilian
of Austria was sent to serve as emperor of
Mexico
. Some
Cahill
insiders believed that it was actually the
Janus
who sent Maximilian overseas, and that they gave him a secret item to take with him. The scheme didn't go exactly according to plan, though. In 1867, Maximilian was captured by Mexican Republicans who objected to having a foreign ruler. He was executed, and Benito Juarez, a suspected
Tomas
agent, became president. According to
Cahill
legend, Juarez had Maximilian's possessions seized and transported to the National Palace. Was he simply in the market for some new furnishings, or was Juarez looking for something infinitely more rewarding?"
Puzzle
Question: What is the secret message hidden in the crown?
Answer: Take Clue to Mexico.
Level: 3
Back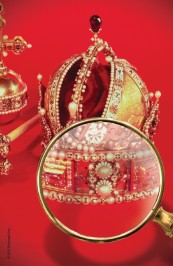 Ad blocker interference detected!
Wikia is a free-to-use site that makes money from advertising. We have a modified experience for viewers using ad blockers

Wikia is not accessible if you've made further modifications. Remove the custom ad blocker rule(s) and the page will load as expected.