Description
"George Mallory was a Tomas mountaineer who died while attempting to climb Mount Everest in 1924. He was last seen just a few hundred meters from the summit. To this day, it is unclear whether Mallory was the first person to make it to the top of Everest. His frozen body was found on the mountain 75 years later, and experts debate whether he died on the way up or down. Mallory is famous for tackling the treacherous mountain just "because it's there." However, Cahills suspect that Mallory was transporting something VERY valuable—something worth hiding in one of the most inaccessible spots on the planet."
Clue
This card, combined with Card 161, Card 162, Card 163, Card 164, and Card 165, forms the Clue Silk.
Back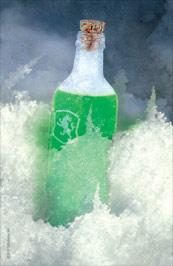 Ad blocker interference detected!
Wikia is a free-to-use site that makes money from advertising. We have a modified experience for viewers using ad blockers

Wikia is not accessible if you've made further modifications. Remove the custom ad blocker rule(s) and the page will load as expected.