This card is available from Card Pack 3.
Description
"At first glance, it looks like Ian Kabra has everything he needs to succeed on the Clue hunt: unlimited money, a private jet, and access to top secret Lucian intelligence. However, no matter how many Clues he finds, it's never enough to impress his mother, Isabel , who runs the Lucian branch with her husband . Ian is desperate to win Isabel's approval and will do whatever it takes--sabotage, treachery, kidnapping, etc. Ian just can not stop thinking about a rotten old orphan girl . But will Ian question his commitment when he sees how far Isabel is willing to go? His mother has already spilled blood on the Clue hunt. It's only a matter of time before she asks her son to do the same. . ."
Back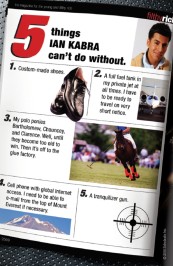 Ad blocker interference detected!
Wikia is a free-to-use site that makes money from advertising. We have a modified experience for viewers using ad blockers

Wikia is not accessible if you've made further modifications. Remove the custom ad blocker rule(s) and the page will load as expected.