Card 184: Lord Byron's Death
Comments

0
1,023pages on
this wiki
Lord Byron
was an English poet famous for his beautiful verses and scandal-filled personal life. There are also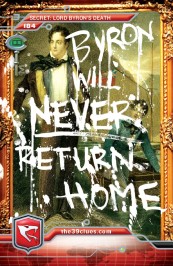 rumors that his friend, Mary Shelley, hid a
Janus
Clue in a copy of her book,
Frankenstein
, and gave it to Byron. For more than 200 years, Cahills from all branches have been desperate to find that book. When Lord Byron went to Greece to fight in its war of independence, the Lucians followed him. He never made it home. Most people believe that Byron died from blood poisoning in Greece—only Cahill insiders recognize it as
Lucian
handiwork. However, even after Byron's death, the Lucians couldn't find his copy of Frankenstein.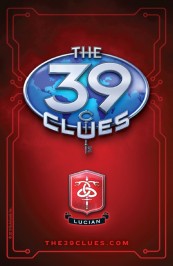 This card, combined with cards 13 and 85 forms the clue Iodine.
Branch: Lucian
Type: Secret
Rarity: Common
Preceded by: Card 183: Fire Investigation
Followed by: Card 185: The Missing Colony