Sir John Franklin was a superstar in the
Tomas
branch. The British Royal Navy officer led numerous
expeditions, including trips to explore the Arctic. When the
Tomas
needed someone for a dangerous top secret mission to the North Pole, Franklin was the obvious choice. In 1845, Franklin set sail along with 128 crew members, most of whom believed that the goal of the expedition was to find a new route to the Pacific Ocean. None of them were ever seen again. What happened to the lost Franklin expedition? And more important, did Franklin ever find what he was
looking
for?
Back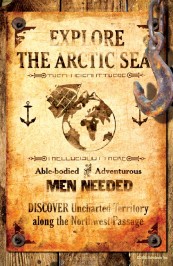 Puzzle
Question: What is the secret message hidden in the poster?
Answer: The Clue is out there.
Level: 2
Clue
This card, combined with cards 147, 155, 186, 192, and 195, forms the Clue Magnesium.
Info
Branch: Tomas
Type: Founder
Rarity: Uncommon
Preceded by: Card 189: Maleia Kalani
Followed by: Card 191: National Palace
Ad blocker interference detected!
Wikia is a free-to-use site that makes money from advertising. We have a modified experience for viewers using ad blockers

Wikia is not accessible if you've made further modifications. Remove the custom ad blocker rule(s) and the page will load as expected.