Description
"Grace Cahill was never happier than when she was flying her plane. That's why her brother, Fiske, decided to draw her in front of The Flying Lemur. Grace was devastated when Fiske mysteriously disappeared, and she suffered further heartbreak when her daughter, Hope, was killed in a fire. She suspected that both tragedies were related to the Clue hunt and was desperate to make sure her grandchildren, Amy and Dan Cahill, didn't suffer the same fate. She tried to protect them by sending messages to her lawyer, Mr.McIntyre in code, in case the documents fell into the wrong hands. She didn't want to make Amy and Dan vulnerable to attack. At least, not until the Clue hunt started. Then it would be out of her hands."
Puzzle
Question: Grace asked William to protect her "precious treasures." What is she talking about? Find the secret message hidden in her airplane registration!
Answer: A + D
Level: 4
Back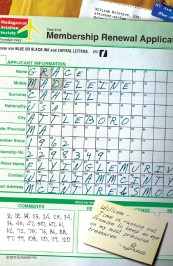 Ad blocker interference detected!
Wikia is a free-to-use site that makes money from advertising. We have a modified experience for viewers using ad blockers

Wikia is not accessible if you've made further modifications. Remove the custom ad blocker rule(s) and the page will load as expected.