Description
"SPOILER ALERT! Don't read this until you have finished ONE FALSE NOTE by Gordon Korman. As you know, Amy and Dan found a Clue guarded by an exploding harpsichord in the Collezione di Racco in Venice, Italy. But Amy and Dan could have avoided the danger. Racco was a show-off, and he couldn't help hiding his Clue in plain sight. His gate shows the head of a wolf and the head of a ram. Wolf. Ram. Get it?"
Clue
This card, combined with Card 17, Card 18, Card 19, Card 21, and Card 22, forms the Clue Tungsten.
Back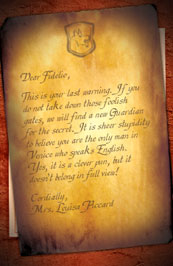 Ad blocker interference detected!
Wikia is a free-to-use site that makes money from advertising. We have a modified experience for viewers using ad blockers

Wikia is not accessible if you've made further modifications. Remove the custom ad blocker rule(s) and the page will load as expected.