Description
"Mary-Todd Holt was born to inactive Tomas agents and grew up without knowing about the Cahill family. However, once Eisenhower Holt spotted her at a fitness competition, it became love at first sight. Who wouldn't be charmed by a woman who wrestles grizzly bears for fun? They married and Mary-Todd became a committed Clue hunter, although her family will always come first."
Back of the Card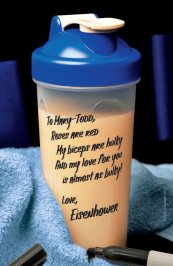 To Mary-Todd,
Roses ARE RED
My biceps Are hulky
And my love for you
is Almost As bulky!

Love,
Eisenhower
Ad blocker interference detected!
Wikia is a free-to-use site that makes money from advertising. We have a modified experience for viewers using ad blockers

Wikia is not accessible if you've made further modifications. Remove the custom ad blocker rule(s) and the page will load as expected.