Card 400: Bookworm With Attitude

Branch:
Madrigal
Type:
Agent
Rarity:
Common
Puzzle:
No
Clue:
No
Top Secret:
Yes
Where To Get This Card:
GB9GXC6M9T
Preceded By:
N/A (None Announced)
Followed By:
Card 401: The Wannabe Ninja
Description
"Amy Cahill is shy. Really, seriously shy. Like can't raise her hand in class if there's a substitute teacher shy. So how is she supposed to travel around the world to search for 39 Clues that lead to a source of great power? Amy better learn to stand up and speak out soon. Or else her Clue hunt is going to be over before it really begins."
Back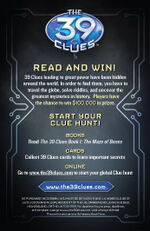 Top Secret
Amy's
Adams Middle School
Library Record.
Ad blocker interference detected!
Wikia is a free-to-use site that makes money from advertising. We have a modified experience for viewers using ad blockers

Wikia is not accessible if you've made further modifications. Remove the custom ad blocker rule(s) and the page will load as expected.