Description
"Some good things come in small packages. But some really rotten things come in small packages, too. Take Natalie Kabra, for instance. She'll smile at you sweetly...but only if she's figured out a sneaky way to take you down. On the hunt for the 39 Clues, you'd better watch your back -before Natalie Kabra puts a knife in it."
Back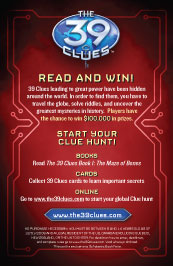 Top Secret
A receipt from a department store (Hannefin's) with the following items-
Versace Black Wallet - 259 pounds
True Religion Bobby metallic jeans - 209 pounds
Versace fitted wool coat - 549 pounds
Mountain Hardwear 4-season tent - 345 pounds
Mammut climbing rope - 199 pounds
The total was 1561 pounds.
Ad blocker interference detected!
Wikia is a free-to-use site that makes money from advertising. We have a modified experience for viewers using ad blockers

Wikia is not accessible if you've made further modifications. Remove the custom ad blocker rule(s) and the page will load as expected.