Description
"What are the Holts doing in the snowy Arctic? Why is
Hamilton
wrestling with polar bears over the last slice of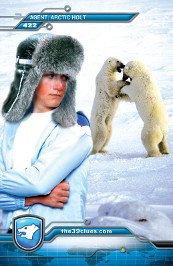 elk-meat pie? This is clearly no visit to Santa Claus. Luckily, the Holts like all kinds of sports--even polar bear wrestling. Hamilton deciphered a secret message which sent him on this mysterious quest. To view the message and find out what he's up to, click on the Top Secret tab."
Back
Top Secret
An article about a Holt (Garfield Holt) winning a high school football game.
Secret Message
Using the Mead calendar, a message was found
Urgent Message
From: Tomas Headquarter
To: Holts
Find Clue in North Pole
Info
Branch: Tomas
Type: Agent
Rarity: Common
Preceded by: Card 421: The Unreliable Uncle
Followed by: Card 423: The Hunted
Code: G69D4X4P9T
Ad blocker interference detected!
Wikia is a free-to-use site that makes money from advertising. We have a modified experience for viewers using ad blockers

Wikia is not accessible if you've made further modifications. Remove the custom ad blocker rule(s) and the page will load as expected.