"Fourteen-year-old
Amy Cahill
, her younger brother,
Dan
, and their cat,
Saladin
, make a pretty good team. Even though they have less money and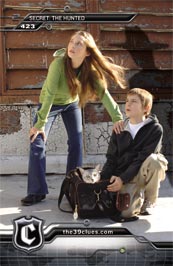 less experience than their Clue-hunting competitors, they've managed to collect a lot of Clues. But they have one major weakness--they don't know how to cover their tracks. And everywhere they go, shadows are following...."
Back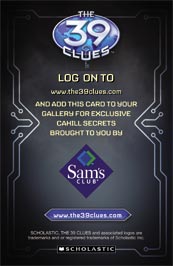 Top Secret
A report from William McIntyre to Fiske Cahill giving status reports about each of the teams.
Info
Branch: Madrigal
Type: Secret
Rarity: Common
Preceded by: Card 422: Arctic Holt
Followed by: Card 424: Ninja Dweeb
Ad blocker interference detected!
Wikia is a free-to-use site that makes money from advertising. We have a modified experience for viewers using ad blockers

Wikia is not accessible if you've made further modifications. Remove the custom ad blocker rule(s) and the page will load as expected.