"
Dan Cahill is
NOT a ninja. But try telling that to him. Especially since he learned that his family--the
Cahill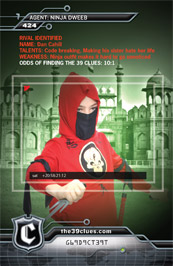 family--is the most powerful group of people in the world. All he has to do now is to find the
39 Clues 
hidden around the world that lead to the source of the family's power. That is, if rival family members don't kill him first. Dan better learn how to use his nunchucks. He's going to need them."
Back
Top Secret
A letter to Dan from Grace with a coded message saying "no more launching bottle rockets in my garden".
Info
Branch: Madrigal
Type: Agent
Rarity: Common
Preceded by: Card 423: The Hunted
Followed by: Card 425: The Secret Weapon
Code: G69D9CT39T
Ad blocker interference detected!
Wikia is a free-to-use site that makes money from advertising. We have a modified experience for viewers using ad blockers

Wikia is not accessible if you've made further modifications. Remove the custom ad blocker rule(s) and the page will load as expected.