Description
"Is NRR a friend or foe? It's suspicious that NRR sent Amy and Dan Cahill airline tickets. On the other hand, it was considerate of NRR to send a guidebook to their next destination. Would a backstabbing assassin be quite so thoughtful? And there's that connection to Amy and Dan's parents, so could NRR really be dangerous? Of course, Hope and Arthur didn't always surround themselves with the most trustworthy people....Examine the card to investigate the question plaguing Clue hunters around the world: Where are Amy and Dan?! Then confirm your guess by reading The 39 Clues Book 5: The Black Circle."
Back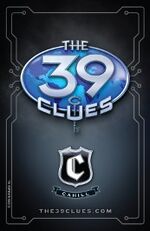 Ad blocker interference detected!
Wikia is a free-to-use site that makes money from advertising. We have a modified experience for viewers using ad blockers

Wikia is not accessible if you've made further modifications. Remove the custom ad blocker rule(s) and the page will load as expected.