Description
"Amy and Dan's rivals have been preparing for the hunt for the 39 Clues their entire lives. Eleven-year-old Natalie Kabra is deadly with a dart gun. Fifteen-year-old Hamilton Holt can hack into any computer network on earth. Yet Amy and Dan didn't even know about the Clues until their grandmother's funeral. How are they supposed to survive a worldwide hunt that's been claiming the lives of famous Cahills for the past 500 years?"
Back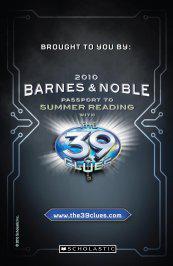 Puzzle
Question: What does the secret message say?
Answer: The fate of the world is in their hands.
Level: 1
Top Secret
An advantages and disadvantages sheet on Dan and Amy.
Info
Branch: Madrigal
Type: Secret
Rarity: Common
Preceded by: Card 436: The Targets
Followed by: Card 438: The Madrigal Pawns
Code: MADRIGAL39
Ad blocker interference detected!
Wikia is a free-to-use site that makes money from advertising. We have a modified experience for viewers using ad blockers

Wikia is not accessible if you've made further modifications. Remove the custom ad blocker rule(s) and the page will load as expected.