Description
"Hamilton Holt will do whatever it takes to win...even if it means playing by his own rules. His father accepts nothing less than complete victory, and Hamilton knows better than to disappoint him. However, the more time Hamilton spends with Amy and Dan, the less they seem like the enemy. As the competition heats up, Hamilton has to ask himself a tough question: can he live up to his father's expectations without destroying his new friends?"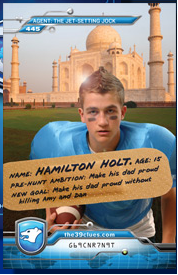 Back

Ad blocker interference detected!
Wikia is a free-to-use site that makes money from advertising. We have a modified experience for viewers using ad blockers

Wikia is not accessible if you've made further modifications. Remove the custom ad blocker rule(s) and the page will load as expected.