Description
You have to know what your enemies are up to if you're going to stay one step ahead of them. That's why the Lucians have developed a wide range of listening devices. They have devices planted in phones, in elevators, in mirrors, behind walls, under floors, in earrings, and several hundred hidden in the White House alone. If you don't want a Lucian to know what you're doing, you have only one option--KEEP YOUR MOUTH CLOSED!"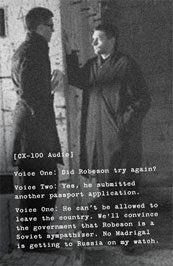 Ad blocker interference detected!
Wikia is a free-to-use site that makes money from advertising. We have a modified experience for viewers using ad blockers

Wikia is not accessible if you've made further modifications. Remove the custom ad blocker rule(s) and the page will load as expected.