Poison Ring
is a common
Lucian
card from Card Pack 1.
Description
"Poison and money are two things very close to Lucian hearts--they're both so useful. So the poison ring, which combines both poison and gold, is a coveted Lucian object. Imagine if that ring could talk! What ghoulish tales it would tell. It could poison people and is worth millions!"
Top Secret
Descriptions of two poison devices.
Back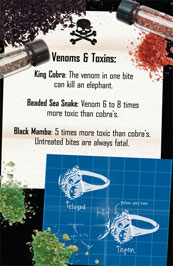 Ad blocker interference detected!
Wikia is a free-to-use site that makes money from advertising. We have a modified experience for viewers using ad blockers

Wikia is not accessible if you've made further modifications. Remove the custom ad blocker rule(s) and the page will load as expected.