Description
In 1926, Tomas all-star and Olympic gold medalist Gertrude Ederle became the first woman to swim the English Channel. And she SMASHED the records of the male swimmers who came before her. When Gertrude made it over to the British side, she was immediately stopped by a customs official who asked for her passport. Some question why the customs official didn't give the tired swimmer a break. Others wonder why she was allowed to make the swim at all . . . considering what she was carrrying.
Back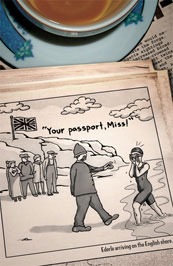 Ad blocker interference detected!
Wikia is a free-to-use site that makes money from advertising. We have a modified experience for viewers using ad blockers

Wikia is not accessible if you've made further modifications. Remove the custom ad blocker rule(s) and the page will load as expected.