Description
"Want to shimmy up a building, hop a fence, or sneak across a rooftop? When the Tomas need to break in somewhere, they often use parkour, an acrobatic French style of running and climbing. There's even a secret parkour school for promising young Tomas agents in Paris. No wonder the Lucians need so much security for their Parisian stronghold in Passy."
Top Secret
Back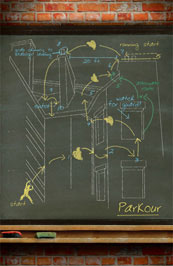 Ad blocker interference detected!
Wikia is a free-to-use site that makes money from advertising. We have a modified experience for viewers using ad blockers

Wikia is not accessible if you've made further modifications. Remove the custom ad blocker rule(s) and the page will load as expected.