Description
"Lucian agent Gordon Klose has a very messy car. The dashboard is littered with empty cups, half-eaten food, and napkins. When Gordon can't find his Clue-hunting notebook under all the trash, he jots down his theories about other agents on the napkins. Normally, Gordon's theories don't add up to much, but sometimes he stumbles upon interesting information. . . ."
Top Secret
Puzzle
Question: What branch of the Cahill family does Alistair Oh belong to--Janus , Tomas ,Ekaterina, or Lucian ?
Answer: Ekaterina
Level: 2
Back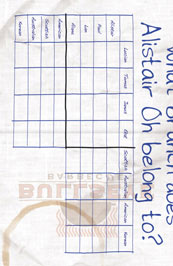 Ad blocker interference detected!
Wikia is a free-to-use site that makes money from advertising. We have a modified experience for viewers using ad blockers

Wikia is not accessible if you've made further modifications. Remove the custom ad blocker rule(s) and the page will load as expected.