Description
"One of the goals of early chemists was to master the art of alchemy--the process of turning lead into gold. But some members of the Cahill family wanted to stop chemists from doing these experiments. They tried bullying, lies, and . . . fairy tales. Early Cahills twisted the original Rumpelstiltskin to make it sound as if changing things into gold was a very bad idea. Even now, it's almost impossible to find the original version of many old fairy tales. Cahills have tampered with them all."
Top Secret
Back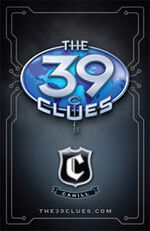 Ad blocker interference detected!
Wikia is a free-to-use site that makes money from advertising. We have a modified experience for viewers using ad blockers

Wikia is not accessible if you've made further modifications. Remove the custom ad blocker rule(s) and the page will load as expected.