Description
"Amy and Dan Cahill believed that their grandmother betrayed them. Couldn't she have mentioned their family's wild history? Didn't she think they had a right to know about the 39 Clues? But while Grace is dead, she is not forgotten. And she left a few hints behind to help her grandchildren on the hazardous hunt for the 39 Clues. Including a copy of her guidebook to Egypt, with some VERY interesting "extras." What do the crossed out-letters mean? What was Grace trying to say?"
Top Secret
A camera that photoed Grace next to some camels in Egypt.
Puzzle
Question: Sneaky Grace Cahill left a coded message in her guidebook. What does it say?
Answer: Winston fears Madrigals.
Level: 2
Clue
This card, combined with Card 74, Card 76, Card 77, Card 78, and Card 79, forms the Clue Myrrh.
Back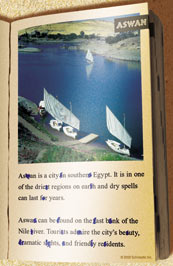 Grace might have left this message for an ally during when she was still part of the Clue hunt.
Ad blocker interference detected!
Wikia is a free-to-use site that makes money from advertising. We have a modified experience for viewers using ad blockers

Wikia is not accessible if you've made further modifications. Remove the custom ad blocker rule(s) and the page will load as expected.