Description
"Famed explorer David Livingstone was obsessed with discovering the source of the Nile River in Africa. But some people believe his fascination with the Nile was a cover for his real interest. He led numerous expeditions and spent years in the jungle, where he encountered many dangers: hungry lions and, even worse, rival Cahill agents determined to uncover Livingstone's secret. What did he find during his years cut off from civilization? Or, more important, what did he leave behind? Collect all cards in this combination to unlock a Clue!"
Clue
This card, combined with Card 74, Card 75, Card 76, Card 77, and Card 78, forms the Clue Myrrh.
It can also be combined with Card 83, Card 102, Card 126, and Card 129 to form the Clue Bone.
Back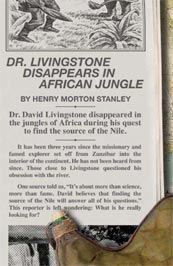 Ad blocker interference detected!
Wikia is a free-to-use site that makes money from advertising. We have a modified experience for viewers using ad blockers

Wikia is not accessible if you've made further modifications. Remove the custom ad blocker rule(s) and the page will load as expected.