Description
"Janus filmmaker Leslie D. Mill is a genius. His last film had more explosions than lines of dialogue! But no one is quite sure why he chose to focus on the rivalry between inventors Thomas Edison and Nikola Tesla for his next film. Is it because Tesla's experiments with electricity will look awesome on screen? Or because Thomas Edison and Nikola Tesla were known Ekat agents who got very close to finding all 39 Clues?! Collect all cards in this combination to unlock a Clue!"
Clue
This card, combined with Card 98, Card 100, Card 106, and Card 119, forms the Clue Mercury.
Back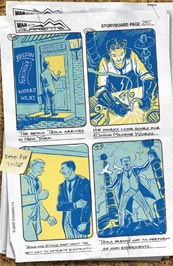 Ad blocker interference detected!
Wikia is a free-to-use site that makes money from advertising. We have a modified experience for viewers using ad blockers

Wikia is not accessible if you've made further modifications. Remove the custom ad blocker rule(s) and the page will load as expected.