Description
"Strange things are happening around Area 51 --a secret Lucian stronghold in the  Western Nevada desert. People are disappearing and, according to tabloids like The National Exaggerator, it has to do with UFOs. But would aliens really leave a message on someone's house? And why were all the missing people on Lucian watch lists? Were they actually abducted by aliens...or did they just get too close to uncovering one of the greatest mysteries of the modern world? Collect all cards in this combination to unlock a Clue!"
Clue
This card, along with Cards 116, 134, and 136 form the Clue Calcium.
Back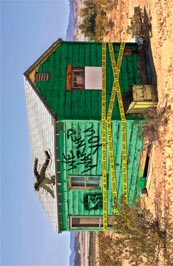 Ad blocker interference detected!
Wikia is a free-to-use site that makes money from advertising. We have a modified experience for viewers using ad blockers

Wikia is not accessible if you've made further modifications. Remove the custom ad blocker rule(s) and the page will load as expected.