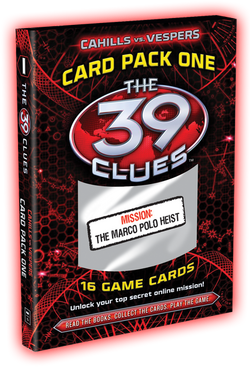 This
card pack
was released on August 30, 2011 and was the first to be released in the
Cahills vs. Vespers
series in conjunction with '
The Medusa Plot
.'
Website Introduction
The 16 cards from this pack unlock a crucial mission — there's an artifact hidden in an ancient city, and you must find it before the Vespers do. The cards give you the gear you need, but it'll take more than gadgets to complete this mission. Only the bravest (and sneakiest) Cahills will have what it takes to save one of history's greatest treasures. Be sure you make it out in time—lives are riding on your success.
Cards
Star Map
Main Article: The Star Map Puzzle

If you place the Cards in a certain order, it will reveal parts of a Star Map.
Order
Top
Next Line
Last Line
Gallery
Ad blocker interference detected!
Wikia is a free-to-use site that makes money from advertising. We have a modified experience for viewers using ad blockers

Wikia is not accessible if you've made further modifications. Remove the custom ad blocker rule(s) and the page will load as expected.