Card Pack 2: Branch vs. Branch
Comments

0
1,024pages on
this wiki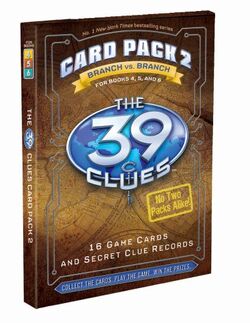 Card Pack 2: Branch vs. Branch is the second card pack. It is for books 4-6, Beyond the Grave, The Black Circle, and In Too Deep. It has 16 cards and "Secret Clue Records."
A pack has 16 cards out of the 53 available for this card pack. Cards are placed in the pack at random, and it is possible to get multiple copies of one card. Some cards are ultra-rare, while others are quite common while some are super common.
List of Cards
Edit
Secret Clue RecordsEdit
The Secret Clue Records are the first booklet with 'Card Checklist'.
$6.99 in the US
$7.99 in Canada
₤4.99 in the UK