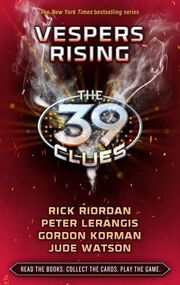 Insider Look: Gideon and Damien
is a 39 second video, Video 2 out of 5 videos to be released at
The 39 Clues
Vespers Rising
Page. It is narrated by a mysterious voice.
Transcript
(Vespers Rising book fading into the V background)
Gideon Cahill 1507
Mysterious Voice: There was a rap at the door.
His servant Balthazar stepped through, bowing low.
"My Lord, Gideon Cahill is here."
Damien smiled.
He didn't plan on killing anyone today.
But he did believe in (pause) being flexible.
"Show him in," Damien ordered.
(Vespers Rising book appears above text that says "DISCOVER THE BETRAYAL THAT STARTED IT ALL" and the text is above the ten 39 Clues Books)
(The text disappears and turns into 4.5.2011. Below it, it says it is available as an audio book)
Ad blocker interference detected!
Wikia is a free-to-use site that makes money from advertising. We have a modified experience for viewers using ad blockers

Wikia is not accessible if you've made further modifications. Remove the custom ad blocker rule(s) and the page will load as expected.