Jeff Hirsch is the author who wrote Breakaway, the second book in Unstoppable.
Background
Jeff is originally from Richmond, Virginia but he currently lives in New York's Hudson Valley with a couple cats, a dog, and his lovely wife who is also a writer. Breakaway is his fourth book, following three books for teens — The Eleventh Plague, Magisterium and The Darkest Path. He write fast-paced and gritty action and adventure stories.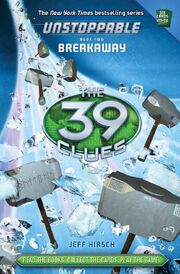 Trivia
If you add his card on the message board you see he is a Lucian
Ad blocker interference detected!
Wikia is a free-to-use site that makes money from advertising. We have a modified experience for viewers using ad blockers

Wikia is not accessible if you've made further modifications. Remove the custom ad blocker rule(s) and the page will load as expected.