Lab Rat

Levels:
100
Age:

Lab Rat is one of the games in the Arena 39 at the 39 Clues website. However it is currently getting fixed.
Instructions
When you get to the game, there will be plates, a notebook pad, and test tubes filled with layers of colors. You must have the correct color in the correct plate which is indicated in the notebook pad. If you get the wrong color, time is deducted. You must complete all the plates before time runs out.
More about the game
At the first three levels, they will tell if you are mixing the correct color in the plate right by hints. After that, they will drop the hints, and you have to figure it out yourself.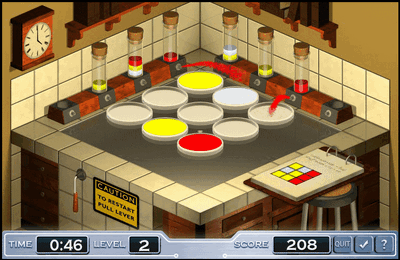 Ad blocker interference detected!
Wikia is a free-to-use site that makes money from advertising. We have a modified experience for viewers using ad blockers

Wikia is not accessible if you've made further modifications. Remove the custom ad blocker rule(s) and the page will load as expected.