Margaret Peterson Haddix is one of the authors in writing the 39 Clues series.
Biography
Margaret Peterson Haddix has put her Ekaterina intelligence and curiosity to good use, first as a journalist, then as a bestselling novelist of The Missing and other mega popular series. After the terrible discoveries she made researching Into the Gauntlet, Haddix went into hiding. Agents on the ground suspect she is living in a bolt hole near Columbus, Ohio.
39 Clues Books
Agent Card
Margaret's Agent Card code is P37FJ22NXP. Her alias is CelebratingAqua94. She is an Ekaterina.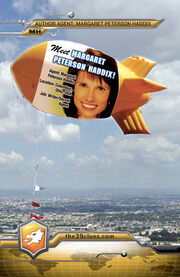 See Also
Ad blocker interference detected!
Wikia is a free-to-use site that makes money from advertising. We have a modified experience for viewers using ad blockers

Wikia is not accessible if you've made further modifications. Remove the custom ad blocker rule(s) and the page will load as expected.