Mission 4: The Lucian Fort
Comments

0
1,046pages on
this wiki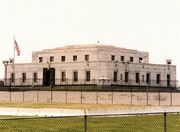 In this mission, find the Lucians' fort and break into Fort Knox. You rub a pencil on a piece of paper to find out where the Kabras are going (Budapest).
Mission
There's a Clue hidden securely by the Lucians. Find out what it is.
Briefing
Watch a video. You're on the bridge, and you look everywhere, make sure no one is watching you. You found a dossier file on the bench. The infos, Ian and Natalie Kabra was spotted in Kyrgyzstan. Head there immediately.
Kyrgyzstan, The Amur Viper Hotel
After the event in Book 3: The Sword Thief (when Amy and Dan send Ian and Natalie to a wild goose chase), you go to the hotel where they stay in there. Talk to the hotel manager. You find out that they are rude, and they leave the hotel just because a single urgent call. You search their room.
Ian and Natalie's Room
You find a note, which there's a page torn. Use the pencil to rub the next to reveal writting impressions. You discovered that they went to Budapest. Note if you scribble in the right hand corner it reads Ian loves Amy but it's scratched out
Budapest
You bumped into Ian and Natalie Kabra, the sneaky Lucians. Talk to Ian. You suspect he seems to hold you to look at the Crown of St. Stephens. Look closely on the crown after the talk.
Crown of St.Stephens
Use the magnifying glass to look for words. You discovered that the crown was once taken to Fort Knox. That's in Kentucky, USA. Head there now!
Breaking News
On the plane, you watched a breaking news on the airline television. It's about a girl suspect who wears a cheerleading outfit, who is breaking the Fort Knox on the lasers. You suspect it's Chrissy Collins.
Kentucky, USA
Meet with Chrissy Collins. Talk to her. About her breaking, it was a misunderstanding.
Fort Knox
You now have to break in. On a fault, you have to align the lasers in order to open it.
Laser Protection
Drag parts of the lasers to connect the board. then you can open it.
CLUE
The safe is finally open. CONGRATULATIONS! You got a Clue! The Clue is Clover.