Series One Books
Comments

0
1,024pages on
this wiki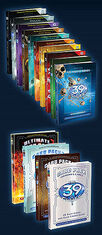 Series One is primarily about Dan and Amy searching for The 39 Clues. There are eleven story books in the series, with Vespers Rising being the final book.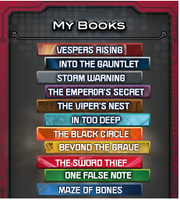 Books:
Additional books:
This makes sixteen books and four card packs in the first series overall.
There are two ways to obtain status having the books for both series on the 39 Clues website:
If you have the books which come with cards, you can enter the codes for the book cards in the 'My Cards' section and you will qualify as having your books.
If you have the books in eBook format or they just didn't come with any cards, you can go to www.the39clues.com/getyourcards and prove you have the book by typing in one of the early words (which number word is randomized) in two of the book's chapters (which chapter is randomized). If you are correct, you will qualify as having your books and get the book cards, hence the address name.
Books 1, 2, and 3's covers seem to be connected. On the following reasons:

On The Maze of Bone's cover, shards of glass can be seen on its rightmost side.
On the One False Note's cover, bones can be seen on the leftmost side and ninja weapons can be seen on the rightmost side.
On The Sword Theif's cover, shards of glass can be seen on its leftmost side.

Books 4, 5, and 6 have a map as the background.
Books 7 and 8 have a pipe pattern as the background