Arena 39: Snake Charmer
Snake Charmer is one of games of
Arena 39 in
the 39 clues
online
. You can also play this in in
Mission 2: The Emperor's Secret
, where you must steal past the snake to get the Clue,
King Cobra Venom
.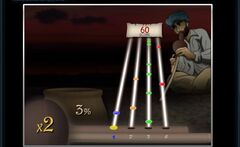 Instructions
The goal of this game is to hit as many notes in time. If you do that, you will earn points. To play the game, you have press 1 for blue, 2 for orange, 3 for green, and 4 for red when the note reaches its hole. The snake goes higher up the basket and the percentage gets higher when you play the notes correctly and in time. It has the opposite effect of this when you play a note wrong. When you reach 100%, you have to hit 5 notes in a row in order for the snake to be charmed.
Ad blocker interference detected!
Wikia is a free-to-use site that makes money from advertising. We have a modified experience for viewers using ad blockers

Wikia is not accessible if you've made further modifications. Remove the custom ad blocker rule(s) and the page will load as expected.