Information in this article may be non-canonical.


The Taj Mahal is a giant tomb built in India by the Janus architect Ustad Ahmad Lahauri  for the emperor Shah Jahan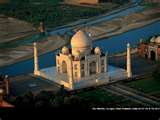 for his wife. It is a decoy hiding spot for the Clue
King Cobra Venom
. There are four sections on it, representing the four
branches
.
Appearances in the 39 Clues
You have to visit the Taj Mahal in Mission 2. Lahauri hid a poem on a wall saying that he wants and only wants Cahills from the Janus branch to find the clue.
Ad blocker interference detected!
Wikia is a free-to-use site that makes money from advertising. We have a modified experience for viewers using ad blockers

Wikia is not accessible if you've made further modifications. Remove the custom ad blocker rule(s) and the page will load as expected.