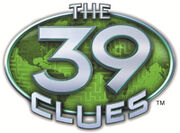 Unstoppable Missions
are the
missions
associated with the third 39 Clues series,
Unstoppable
. There will be at least four missions, one for each book. Unlike the 
Cahills vs. Vespers Missions
, the missions are able to be played without having to add the cards found in the book. Instead, the cards unlock a special part of the mission.
In this mission, you find out that one of the ingredients of the Antidote is corn.
In this mission, you find the antidote ingredient is the copper butterfly wing.
In this missions, you find the dingetenga plant, one of the Antidote ingredients.
Ad blocker interference detected!
Wikia is a free-to-use site that makes money from advertising. We have a modified experience for viewers using ad blockers

Wikia is not accessible if you've made further modifications. Remove the custom ad blocker rule(s) and the page will load as expected.