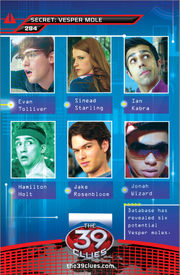 Vesper Three
or
"The Mole"
, is a member of the Vesper 
Council of Six
.
The Vesper Mole had access to the Cahill Command Center, Attelboro. Therefore narrowing the suspects down considerably.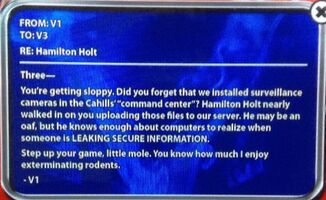 Suspects
Identity
Sinead Starling (Not revealed until Mission Five: Trust No One.)
In Mission Titanic, Sinead is revealed to have gone into hiding after the hostage plot. She currently lives in Singapore with her brothers.
Ad blocker interference detected!
Wikia is a free-to-use site that makes money from advertising. We have a modified experience for viewers using ad blockers

Wikia is not accessible if you've made further modifications. Remove the custom ad blocker rule(s) and the page will load as expected.